For the longest time, I have been curious as to who my grandfather was on my Dad's side of the family. My Dad's birth certificate said "Unknown", and my grandmother had once said she had no idea who it was, adding that each of her three children had a different father. Her daughter, at least, has a document on Ancestry.com that states her father's last name is Panno. Her youngest son, born many years later, died while a child. His head stone says he was a Gonsalves. But my dad? Nadda. Zilch. Absolutely nothing was known. No hints at all.
Enter another mystery – A young lady on Ancestry.com contacted me stating she had done a DNA test, and after investigating Shared Matches and such, she found out that her mother was my father's daughter. In other words, I had a sister I didn't know about. This turned out to be quite the blessing! I had been thinking of doing the DNA test to see if I could connect anything in regards to my grandfather, and like a beacon of light, my new sister and her aforementioned daughter re-lit my desire. I took the test. It confirmed what we now already knew (they are indeed my sister and niece… *waves to them*), but my niece's Shared DNA gave me the opportunity to compare with my known cousins from my Grandmothers side. All of them shared that DNA. Naturally, absolutely none of them would have my mother's DNA. So after eliminating all the Shared matches between us all, there were THREE (out of thousands!!! …ok… closer to a hundred) that only my niece and I had. Those could only come from my grandfather's side, because they'd be her great-grandfathers as well.
So from there, I began checking them out. Two of them that were directly connected to each other had no family trees to look at. But that was not a dead end. All I had to do was look at their Shared matches with me and come up with people that had family trees. These new matches provided a starting point for one side of my grandfather's family tree. That third person did have a tree, but nothing there matched up with these other ones, so therefore must be on the other side of my grandfather's family tree. So all I had to do was find where the two sides connected, ie a marriage. Any children from that marriage would hopefully provide my grandfather.
Below are some images of how things worked out after weeks on end of investigating these family trees. Revealed is the secret of why I like Reese's Peanut Butter Cups (let's see if anyone gets that!). There is also a Kipp Kat Candy Bar connection!
First up is the one that had no connections to the others. This person did have other Shared Matches with me that I also investigated, but it is her that I used as my chart. Those other Shared Matches between us just confirmed what is here, but used different siblings at points. But the top of the tree is where it counts.
Next are two Shared Matches with the two that didn't have family trees. The Slattery connection was a huge help, as when I contacted her, she gave me a huge clue in how she tied in with the person in the second image. It was because of that that I restarted my charts, because initially I was putting these DNA connections at my level in the tree, when in fact they should have been at my Dad's level. I assumed they were around my age, but it appears they were around my Dad's age instead. With that, I think I hit the jack-pot!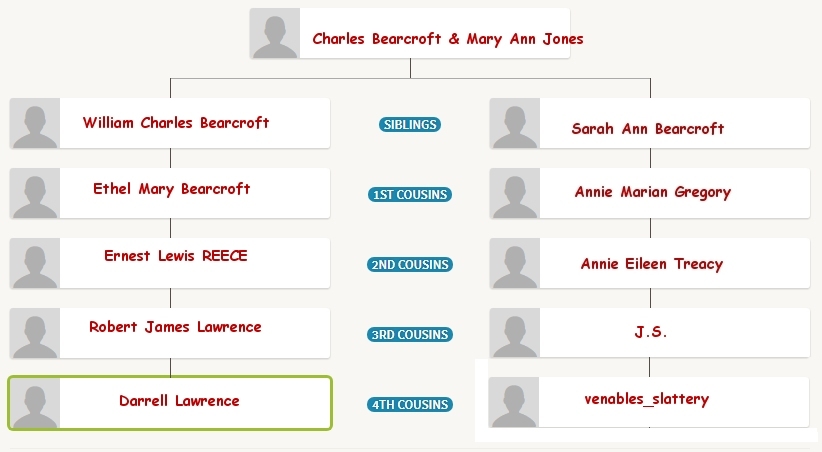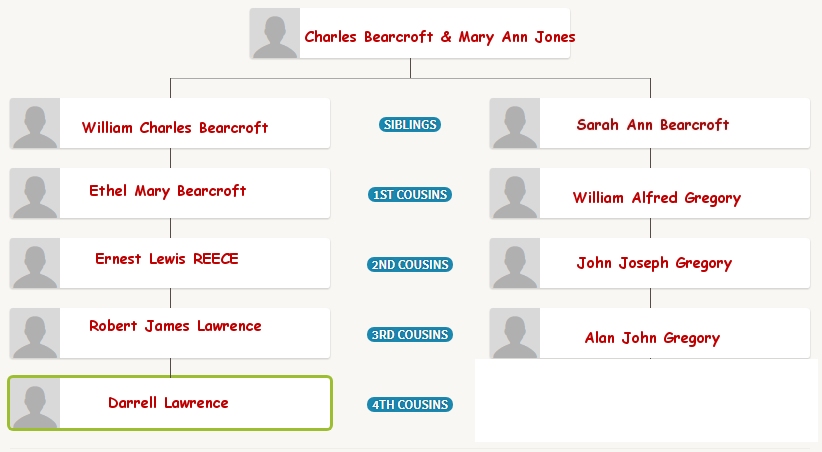 So did you figure out who my grandfather is? After I found this, I had to check and see by way of documents if he was in Mariposa, CA at the proper time. Guess what? He was. I am now 98% sure this is him.